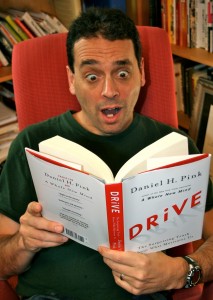 I just finished reading Drive: The Surprising Truth About What Motivates Us by Dan Pink. As he did in A Whole New Mind: Why Right-Brainers Will Rule the Future (one of my all-time favorite professional reads), Pink presents a thought-provoking series of ideas through a reader-friendly blend of interesting anecdotes and scholarly research plus a few key lists, quotations, and visuals to make the ideas stick.
I love that he opens this new book about motivation with the story of Wikipedia. Whatever you think about its credibility or validity as a source of information, you have to admit that it is an amazing example of voluntary collective action. It's motivation that explains why so many people choose to use their "cognitive surplus" (as Clay Shirky calls it) to contribute to an online encyclopedia rather than sit mindlessly in front of the television.
Pink lays out a compelling case for the values of intrinsic motivation over extrinsic rewards, showing that autonomy leads to engagement, and engagement produces mastery–"the desire to get better and better at something that matters" (p. 111).
My favorite chapter is the one on Mastery. It opens with this delightful poem by W. H. Auden, includes a nice synopsis of Csikszentmihalyi's work on flow and Carol Dweck's work on the power of learning goals vs. performance goals, and concludes with the mathematically poetic assertion that "mastery is an asymptote" (p. 126).
Especially helpful for parents and educators are the "Nine Ideas for Helping our Kids" in the Toolkit. There are great suggestions for changing homework to homelearning, involving kids in self-assessment based on their learning goals, helping kids see the relevance of what they're studying, and "turn[ing] students into teachers" (pp. 174-184). Overall, another must-read for educators.
My related posts:
What's Your Sentence?
Dan Pink's New Year's Preview
A New Approach to Motivation
Other people's related posts:
A Few Reflections On Daniel Pink's New Book, "Drive"
Two Questions that can change your students' lives…
What's YOUR sentence?
"Carrots and Sticks are So Last Century": A Conversation with Author Dan Pink
Two Life-Changing Questions
Two Questions to Make 2010 a Great One for You and Your Team
Photo Credit: "Are you ready to, uh, Drive?"